The Foundation
The Terre de Sienne Foundation focuses on three areas for action: housing, food and education,
helping people to live, eat and learn in better conditions.
In addition to supporting field-based, environmentally responsible initiatives,
the Foundation is actively involved in campaigns to raise awareness among the general public, professionals and opinion leaders.
The Terre de Sienne Foundation is the only communications agency foundation
under the aegis of the Fondation de France.
---
35 projects supported since its launch in 2012,
for financial support and skills sponsorship programs

15% of Terre de Sienne's profits
allocated to the Foundation each year
Solidarités Nouvelles pour le Logement
Since 1988, Solidarités Nouvelles pour le Logement (SNL) has been supporting the work of committed volunteers, both tenants and employees, who come together in their communities to promote inclusion by helping disadvantaged people find housing.
The Terre de Sienne Foundation provides support for an SNL social housing project for 12 energy-efficient residences in Saint-Denis, north of Paris, with organic vegetable gardens and shared kitchen and bread oven.
snl-union.org
Social ties are an essential part of the project, with the active presence of SNL volunteers to assist families, who receive much more than just shelter: personalized assistance simplifies and improves their everyday life, through meetings and conversations.
The support available ranges from putting families in touch with local doctors to helping them find employment.
Réseau Cocagne
Réseau Cocagne operates across France to support the development of organic community gardens promoting social and professional inclusion. Here, adults in difficulty can build long-term plans as they grow and deliver weekly produce baskets.
To increase the impact of its actions nationwide, Réseau Cocagne has created a unique site dedicated to inclusion, sustainable agriculture, organic food and training, located in the Plateau de Saclay business cluster south of Paris.
Réseau Cocagne/30 000 paniers solidaires
The "30 000 Paniers Solidaires" program was launched in 2010 to facilitate access to a regular supply of organic produce distributed locally to disadvantaged people. In six years, 125,000 baskets of organic, community-grown produce have been distributed and 3,500 families got involved in 33 Jardins de Cocagne across France.
L'art(sans)frique/Quai Branly Museum
L'art(sans)frique aims to occupy places typically dedicated to culture to host multidisciplinary projects that focus on the theme of creation in Africa.
By financing the Adjamé project as part of the Journée des Associations, the Terre de Sienne Foundation enabled the clients of certain nonprofit organizations that it supports — Réseau Cocagne, Secours Populaire and Cami Sport & Cancer — to experience new cultures and sounds in an exceptional setting, the Musée du Quai Branly.
CAMI Sport & Cancer
Physical exercise has been shown to help reduce the recurrence of the major cancers. CAMI Sport & Cancer — a pioneering organization and a leader in the field — aims to increase, organize and structure physical activity for people fighting cancer or who have had cancer in the past.
The Terre de Sienne Foundation works with CAMI Sport & Cancer to inform and increase awareness for all stakeholders — the general public, the medical profession and government agencies — of the preventive and therapeutic benefits of physical activity in treating cancer. It also works to boost visibility in order to promote cancer prevention through physical activity.
CeRePP/Cancer Research
CeRePP is a nonprofit organization that seeks to further clinical activities and research on cancer and promotes teaching resources specific to these activities.
CeRePP is a group of doctors and researchers focused on developing new markers and technological resources to prevent, diagnose and treat the most common cancers: breast, lung, prostate and colon.
CeRePP includes a national network for clinical research, a genomics research lab and data mining. The molecular knowledge acquired through this "patient-to-gene" approach is used to help develop research on gene transfer that is applicable in medical practice.
The Terre de Sienne Foundation is supporting CeRePP in a five-year clinical trial that aims to offer personalized and alternate treatments, determined by analyzing the genome of the affected patients.
Through its research network, CeRePP contributes to leading scientific and clinical research programs in France and internationally.
Parc Branféré
At the Ecole Nicolas Hulot pour la Nature et l'Homme, children learn about environmental protection and preserving biodiversity during educational stays at this environmental camp located in the Branféré zoo and botanical garden in Brittany.
The program combines the Terre de Sienne Foundation's three environmentally responsible areas for action — housing, food and education — as children stay at an HQE-certified site and eat organic meals made with produce from the vegetable garden. There are play areas and multimedia learning rooms, and children can explore a hundred acres of grounds several centuries old, for full immersion in the plant and animal world.
Secours Populaire
Secours Populaire has always strived to provide its clients with access to a wide variety of cultural activities. This is in addition to food aid, which remains one of its main goals, alongside support.
Secours Populaire has established ties with the Jean Arp theater in the Paris region. The organization's clients — mainly children — regularly attend carefully chosen shows that are both culturally significant and fun. They are always much appreciated by the audience on both these levels.
The Terre de Sienne Foundation, which shares this ambition, contributed to the program for three years by financing these activities during the school year. Almost 300 participants in total attended several shows.
La Voix de l'Enfant (The Child's Voice)
La Voix de l'Enfant is a federative association that was founded in 1981 and has 75 member organizations that aim to promote awareness and protection of children in distress in France and all over the world.
The Terre de Sienne Foundation supports La Voix de l'Enfant by assisting with its public and institutional communications. We created a new logo, signature and brand identity to boost visibility, produced annual reports, provided regular communications on its activities, and organized promotional events and awareness campaigns.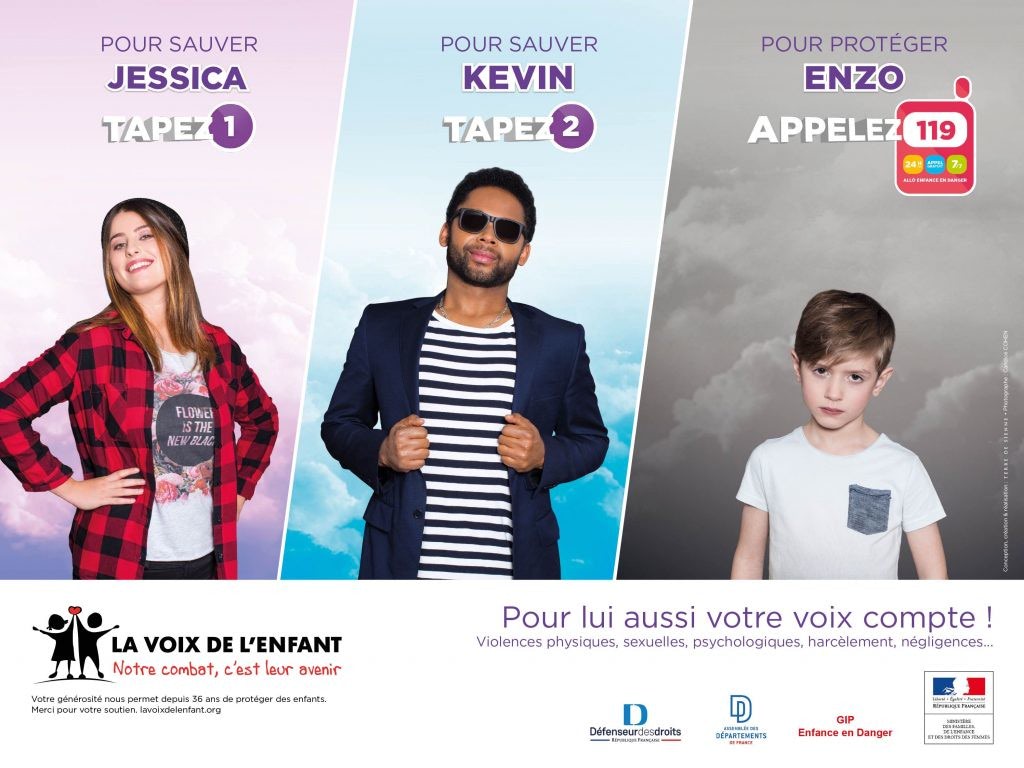 These hard-hitting advertising campaigns are designed to call attention to and spread awareness of this excellent cause and rally public support so that everyone can take action. They were widely deployed through billboards, TV and movie theater commercials (TF1, France 2, France 3, France Ô, Canal+, Arte, iTELE, Direct 8, RTL9, Canal J, June, Gulli, MCM, Metro, Pathé) and a dedicated website.
La Voix de l'Enfant/Fraternity Cup
Held every fall in Paris, the Fraternity Cup, a unique soccer tournament, brings together children's teams (aged 11 to 13) from around the world.
Aside from the sports competition aspect, the Fraternity Cup aims to offer children the chance to meet others, and an opportunity for discovery on themes such as social and cultural diversity, inclusion through sport, rejecting discrimination and combating violence.
The Terre de Sienne Foundation offers communications support for the event and contributes to the citizenship workshops and cultural events for children designed to promote a citizen perspective for the long term, in France and abroad, in a relaxed and supportive setting.